Home
About Us
Productions
Upcoming Production
Current Season
Tickets
Past Productions
Children's Classes
Artists
Support Theatre Unbound
Did You Know?
Contact Us
PAST PRODUCTION:
Theatre Unbound
and
The 365 National Festival
Bonnie Metzgar and Suzan-Lori Parks, Producers
Present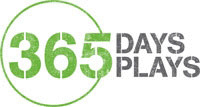 365 Days/365 Plays
by Suzan-Lori Parks
Enjoy a "progressive dinner" style romp through the wild world of Pulitzer Prize winner Suzan-Lori Parks, where each room holds something completely new and wonderful. A new play starts every 10 minutes. See one or two or stay for them all!
The 365 National Festival:
Hundreds of theaters have joined a grassroots premiere of the plays in Atlanta, Austin, Chicago, Colorado, Greater Texas, Los Angeles, Minnesota, New York, Northeast, San Francisco Bay Area, Seattle, Southeast, Universities (365U), Washington DC Area and Western US. And the Festival is growing every day. To join go to www.365days365plays.com. Produced by Bonnie Metzgar and Suzan-Lori Parks.

Suzan-Lori Parks
Saturday, May 12, 2007
The College of St. Catherine
Room 361:
They Were So Sure in Chicago
The Writer Turns 40
Directed by: Gretchen Weinrich
Featuring: Bethany Hummel, Brenna Jones, Justin S. Latt, Stephen Moeller, Lacey Piotter, Gretchen Weinrich
Room 362:
A Flip-Off Flip Book
Since You've Been Gone Meets Irresistable
Directed by: Jeannine Coulombe
Featuring: Heather C. Brady, Samantha Dean, Angela Skinner
Room 370:
The Art of Peace
(Again) Landslide
Directed by: Natalie Novacek
Featuring: Anne Bertram, Emma Gochberg, Laurie Padgett, Ariel Pinkerton, Noë Tallen
Room 401:
Everybody's Got An Aunt Jemimah
Directed by: Cherie Anderson
Featuring: Megan Lee-Erickson, Sandy'Ci Moua, Erin Sheppard
Room 401:
You Can See The Hollywood Sign From Here
Directed by: Stacey Poirier
Featuring: Heidi Berg, Scott Bryant, Kia Erdmann-Hammill, Brian Hesser, Kristin Kuchler, Katherine Larsen, James Rone, Megan Lee-Erickson, Angela Marsh, Sandy'Ci Moua, Christopher O. Kidder
Room 495:
Playing Chopsticks (Father Comes Home From The Wars, Part 7)
Directed by: Laura Leffler-McCabe
Featuring: Eric F. Avery, Anna Lawrence
4th Floor Hallway:
Action In Inaction
Directed by: Heather C. Bracy
Featuring: Susana Gluck, Alexandra Gould, Tyler D. Martin