PAST PRODUCTION: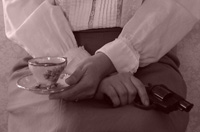 Murderess
Written by Anne Bertram
Directed by Stacey Poirier
May 18, 2009
Theatre Unbound hosts a benefit performance of Kristen Shea in Murderess, a new play by Anne Bertram. In this one-woman show, three famous killers from American history - Laura Fair, Belle Gunness, and Lizzie Borden - defend their crimes. One night only!
Performance Date and Time:
Monday, May 18, 2009
7:30 pm
Performance Location:
Brackett Park Recreation Center
2728 39th Avenue South
Minneapolis, MN 55406
Ticket Information:
Tickets are $25 and are available at the door. Proceeds to benefit Kristen's New York production of the piece.
Refreshments:
Tea and cookies will be served!