PAST PRODUCTION:
A Piece of My Heart
Written by Shirley Lauro
Inspired by the book by Keith Walker
Directed by Maggie Bearmon Pistner
March 4-18, 2006
Souls are lost, bodies destroyed, friendships forged in a war that haunts us still. Six American women give voice to their experiences in Vietnam.
Cast:
Martha: Beth Chaplin
MaryJo: Bonnie Allen
Sissy: Anna Olson
Whitney: Angela Marsh
LeeAnn: Sophronia Liu
Steele: Lori M. Neal
The American Men: Edward O. Linder
Crew:
Producer: Stacey Poirier
Director: Maggie Bearmon Pistner
Dramaturg: Anne Bertram
Stage Manager: Toni Solie
Assistant Stage Manager: Katie Ritchie
Set Design: Mark Koski
Props Design: Roxanne Skarphol
Costume Design: Andrea Gross
Sound Design: Montana Johnson
Light Design: Nicole Simoneau
Graphic Design: Edward Linder
Program Design: Shannon Buchda
Veteran Advisory Panel:
Mary O'Brien Tyrrell
Patty Finstermaker
Elain Heiss
Lee Michaelson
Press: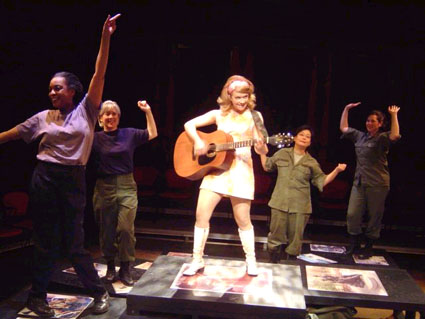 Sponsors:
This activity was made possible, in part, by funds provided by Target, and by the Metropolitan Regional Arts Council from an appropriation by the Minnesota Legislature.