SHANNON ELLIOTT (Lighting Designer) joins Theatre Unbound for the first time. A Minnesota native, Shannon earned her generals at Anoka-Ramsey Community College and her B.A. in Theatre from University of Northwestern-St Paul. Currently, Shannon works as a tech manager at Minnehaha Academy, freelance lighting designer, and theatre educator. You may have seen her onstage in the Minnesota Fringe Festival 2013 as Tisbe in La Bella Cinderella or Julie in Torch Theater's Les Liaisons Dangereuses. Upcoming: Anything Goes with Cross Community Players (Lighting Designer) and Into the Woods with Youth Artists Initiative (Lighting Designer).
 THEATRE UNBOUND ASKS
In three words, describe this production of Hamlet.
Grotesque, Decaying, and Gnarled.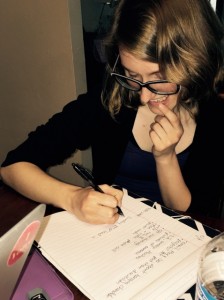 Tell us about your vision for your design/work on this production.
We are working with lighting angles and how they can distort the face, how they can reveal or separate, and the differences in the surreal moments of the play. In my design, I'm looking forward to playing with how to present the storytelling as a dialogue with the audience. A tale of caution and sentimental destruction. The story speaks for itself, Shakespeare needed nothing fancier than his pen and I'm merely inviting the creative.
Shakespeare is the most commonly produced playwright of all time. Does that hold any significance for you as an artist?
He wrote about the most basic human emotions, ones that transcend generations and yet still hold us captivated and curious. This show has been done thousands upon thousands of times, I've seen it staged numerous times myself, and yet we still come back to it and still find reasons for it to be fresh and engaging. Shakespeare shows me that art is not about someone screaming into a void, but calling out to each other to wonder and question. To return to what we know and think deeply, feel deeply, and imagine deeply.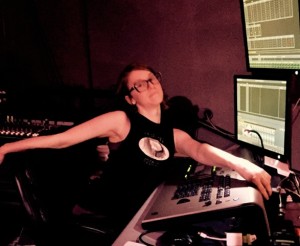 TU puts women's stories on stage. What is a story about women that you would like to see on stage?
Currently I'm fascinated by the women pilots in the World Wars, ones that went home silenced and unknown because they weren't male war heroes. More historical dramas about women in general.
Where is your favorite place to be?
I'm going to say a food place, hopefully it's alright to make a plug… Shish on Grand. That's my coffee shop. Only it's better than a coffee shop because it has hummus.
What's your motto?
"Though she be but little, she is fierce." (Midsummer Night's Dream, Shakespeare)
SHANNON ELLIOT joins the creative staff for Theatre Unbound's all-female cast production of HAMLET by William Shakespeare.
May 16-31, 2015
JSB Tek Box in the Cowles Center
Downtown Minneapolis
For more information or to buy tickets, visit:  theatreunbound.com