PAST PRODUCTIONS: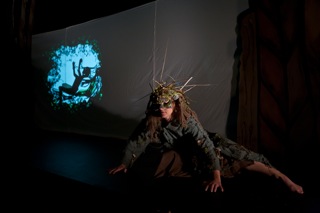 10 VIRGINS
Written by Laura Jacqmin
Directed by Natalie Novacek
November 6-21, 2010
Once upon a time there were 10 sisters who lived alone in the woods, until one day, one of them thought she could see a way out ...
What does it mean to be abandoned? What does it mean to be free? A haunting exploration of power, manipulation and choice by 2008 Wasserstein Prize winner Laura Jacqmin.
"A distinctive drama ... consistently intriguing." - Chicago Tribune
Sponsored By:

Performance Dates:
Saturday, November 6 - 7:30pm
Sunday, November 7 - 2:00 pm
Thursday, November 11 - 7:30 pm (pay-what-you-can)
Friday, November 12 - 7:30 pm
Saturday, November 13 - 7:30 pm (post-show discussion*)
Sunday, November 14 - 2:00 pm
Thursday, November 18 - 7:30 pm (pay-what-you-can)
Friday, November 19 - 7:30 pm
Saturday, November 20 - 7:30 pm
Sunday, November 21 - 2:00 pm (audio described)
Post-Show Discussion*:
Join us for a post-show discussion on "Myths, Fairy Tales and Women" with Kay Robinson (Professor of Theatre, Concordia University), Katrina Neckuty-Fodness (Writer, writing professor), and Judith Savage (Diplomate Jungian Analyst).
Performance Location:
The Lowry Lab Theater
350 St. Peter Street
St. Paul, MN 55102
Cast:
Märchen: Delta Rae Giordano
Jenny Greenteeth: Julie Ann Nevill
Ilsebille: Noë Tallen
Rose: Katie Willer
Gretel: Justine Bergevin Holle: Ashley Davis
Little M: Daisy Donohue
Little I: Tamara Philbrick
Little R: Heather Meyer
Little G: Billie Jo Konze
Little H: Heather C. Brady
Production Team:
Director: Natalie Novacek
Assistant Director: Crystal G. Schneider
Stage Manager: Erin Denman
Producer: Stacey Poirier
Assistant Producer: Jeni Long
Costume Design: Kiley Cermak
Scenic/Light Design: Julia Carlis
Sound Design: Dixie Treichel
Puppet Design: Sara Schmidt Boldon
Shadow Puppet Design: Anne Sawyer-Aitch
Puppet Movement Coach: Jennifer Walker
Graphic Design: Greg Vanslow
Program Design: Shannon Buchda
Press:
Press Release
Production Photos
Review: Star Tribune
Article: City Pages
KFAI Radio Broadcast featuring cast member Delta Rae Giordano (2:02:00)
This activity is made possible, in part, by funds provided by the Metropolitan Regional Arts Council from an appropriation by the Minnesota Legislature.