PAST PRODUCTION: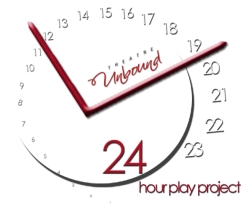 Second Annual 24-Hour Play Project and Benefit Gala
March 8, 2003
Six new short plays featuring women theatre artists will be written, rehearsed and staged within a twenty-four hour period. Go!!
The Plays:
You Are the TRUE LORD of the DANCE
no matter what those idiots at work Say
Written by Cherie Anderson and JF Bueche
Directed by Andrea McAvey
Featuring Peg Flaherty, Katherine Larsen, Emily Kollars, Alia Mortensen, Colleen Buckman, Cori White
Tess's Lament
Written by Betty Liedtke and Eli Jean Weintraub
Directed by Ellen Fenster
Featuring Doree Dutoit, Delta Rae Giordano, Tyler Martin
The Promotion
Written by Connie Ross
Directed by Bobbi McCrea
Featuring Emily Kollars, Rick Logan, Laurie Pogue, Amy Salloway, Cori White, Rebecca Yoho
Peace and Freedom (Bright Green Silo)
Written by Jennifer Paige and Anne Bertram
Directed by Sarah Gioia
Featuring Tina Miller, Laura Wiebers
I Humbly Apologize for my Leader. Everything He Says and Does
is an Embarrassment to us All.
Written by Carol Critchley and Matthew A. Everett
Directed by Kristin Richardson
Featuring Cherie Anderson, Connie Dussl, Peg Flaherty, Matt Gaffney, Tyler Martin, Alia Mortensen, Stacey Poirier, Amy Zimmerman
It's Getting Hot In Here
Written by Laurel Osterkamp and Stacey Poirier
Directed by Ahna Brandvik
Featuring Ahna Brandvik, Heather Bray, Edward Linder, Heather Stone