PAST PRODUCTION: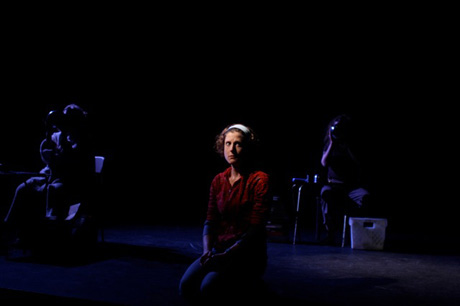 Anna Bella Eema
Written by Lisa D'Amour
Directed by Genevieve Bennett
October 8-23, 2011

For Mature Audiences
Ten-year-old Anna Bella and her hermetic mother Irene live in a ratty trailer on the edge of town. When their trailer park is slated for demolition because of interstate highway expansion, Irene refuses to leave. In this moment of crisis, Anna Bella creates a new girl out of the mud behind their trailer home. This mud-girl helps Anna Bella face the world outside her home. A richly imagined tale of a fierce mother/daughter bond, told through word and song.
"Its beauty and its depth are almost beyond language other than its own." - The Austin Chronicle
Performance Dates:
Saturday, October 8 - 7:30pm (opening night gala)
Sunday, October 9 - 2:00pm
Thursday, October 13 - 7:30pm (pay-what-you-can)
Friday, October 14 - 7:30pm
Saturday, October 15 - 7:30pm
Sunday, October 16 - 2:00pm
Thursday, October 20 - 7:30pm (pay-what-you-can)
Friday, October 21 - 7:30pm
Saturday, October 22 - 7:30pm
Sunday, October 23 - 2:00pm (audio described)
Performance Location:
The Lowry Lab Theater
350 St. Peter Street
St. Paul, MN 55102
Performers:
Maren Ward, Jaime Kleiman and Katie Kaufmann
Creative Team:
Genevieve Bennett, Alexandra Gould, Brittany Eastburn, Maggie Scanlan
Press:
Press Release
Interview with Director Genevieve Bennett:
MP3 Stream or Real Audio
Trailer
Production Photos