PAST PRODUCTION: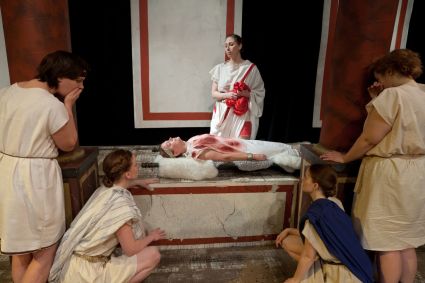 Julius Caesar
Written by William Shakespeare
Directed by Carin Bratlie
Presented with an all-female cast
April 21 – May 6, 2012

In a free country, a popular political leader reaches for absolute power. Former friends must decide: loyalty or patriotism? Honor or ambition? Blood is shed in the name of the public good, the country plunges into civil war, and a noble person faces a tragic undoing.
Performance Dates:
Saturday, April 21 - 7:30pm (opening night gala)
Sunday, April 22 - 2:00pm
Wednesday, April 25 - 7:30pm (free wine Wednesday)
Thursday, April 26 - 7:30pm
Friday, April 27 - 7:30pm (free beer Friday)
Saturday, April 28 - 7:30pm (pre-show panel discussion: 6:30pm*)
Sunday, April 29 - 2:00pm (post-show panel discussion: 4:30pm*)
Wednesday, May 2 - 7:30pm (free wine Wednesday)
Thursday, May 3 - 7:30pm (pay-what-you-can)
Friday, May 4 - 7:30pm (free beer Friday)
Saturday, May 5 - 7:30pm
Sunday, May 6 - 2:00pm
*Pre- and Post-Show Discussions:
Saturday, April 28
Pre-show panel discussion: 6:30pm
Topic: "Why do all-female Shakespeare?"
Featuring: Carolyn Levy (Hamline University), Darcey Engen (Augsburg College) and Sonja Kuftinec (University of Minnesota)
Sunday, April 29
Post-show panel discussion: 4:30pm
Topic: "Women and Political Power"
Featuring: Shakopee City Councilor Pamela Punt, Minnesota State Representative Erin Murphy, Minnesota Senator Patricia Torres Ray and more
Cast:
Kirby Bennett
Anissa Siobhan Brazill
Laura Delventhal
Abby DeSanto
Rachel Finch
Brigid Kelley
Katherine Kupiecki
Ariel Leaf
Carin Leonard-Gorrill
Julie Ann Nevill
Stacey Poirier
Victoria Pyan
Roneet Aliza Rahamim
Noë Tallen
Katie Willer
Creative Team:
Emily Arachtingi
Ursula Bowden
Stephanie Brown
Julia Carlis
Meredith Gillies
Kit Gordon
Anita Kelling
Crystal Schneider
David Schneider
Performance Location:
The Lowry Lab Theater
350 St. Peter Street
St. Paul, MN 55102
Press:
Press Release
Review: Star Tribune
Article: Twin Cities Daily Planet
Article: Lavender Magazine
Article: ArtsAmerica
Production Photos
Trailer Video