PAST PRODUCTION: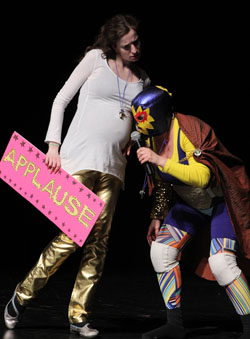 24:00:00 Xtreme Theatre Smackdown
January 12, 2013
8:00 PM
with your Emcee Crushinator the Corset Buster and Lovely Assistant Lana Bad Mama Jama
24 hours - 6 new plays - featuring some of the Twin Cities' most bad-ass female theatre artists! Theatrical thrills, spills, triumphs and tragedies - you witness the results - one night only!
Performance Location:
Anne Simley Theatre
Hamline University
1536 Hewitt Avenue
St. Paul, MN 55104
How It Works:
In November, we invited the general public to suggest ingredients to include in the Smackdown scripts. In December, we conducted voting on those suggestions. On Friday evening at 9:00 PM, we revealed the winning ingredients to six teams of playwrights, who had to include all of those ingredients in their scripts. At 6:00 AM on Saturday morning, the newly written plays were assigned directors and actors. Rehearsals skidded to a halt just in time for the doors to open.
2013 Ingredients:
Line of Dialogue:
"Yes, due to liability issues."
Submitted by Christopher Kidder
An Object:
An object whose name no one wants to say
Submitted by Brian Watson-Jones
An Emotion:
Sudden lust for an inanimate object
Submitted by Scott Pakudaitis
Random:
Exit, pursued by a bear (allow creative interpretation of the word "bear")
Submitted by Stephanie Richards
Theatre Unbound Pick:
An award
Video Playlist:
Plays:
There's No Such Thing as a Free Wedding
Written by: Jenna "Kiss My Cast Iron" Bolland and Troy "Professor Kool-Aid" Iverson
Directed by: Crystal "Red" Schneider
Featuring: Kari "Wild Fire" Kelly, Kari "Cake Monster" Kjeldseth, Jenn "The Imp" Kudelka, Carin "The Crusher" Leonard-Gorill, Andie "Ando Calrissian" Olthoff and Andrea "The Amazon" Tonsfeldt
---
Ice Garden
Written by: Anne "Vegetarian Vegetable" Bertram and Becky "The Rizzanator" Rizzio
Directed by: "Hellcat" Maggie Scanlan
Featuring: Amy "T. Ville Horror" McGarness, "The Evil" Julie Ann Nevill, and Adam "Home don't play dat" Western
---
Broken Resolutions
Written by: Katherine "the Ass-Kicker" Glover and Ruth "Pain Circus" Virkus
Directed by: Emilia "You Heard Me" Allen
Featuring: Shalee "Town U.S.A." Coleman, Ty "The Manic Guy" Martin, Maddie "The Baddie" Scanlan and "She-Nay-Nay" Renee Werbowski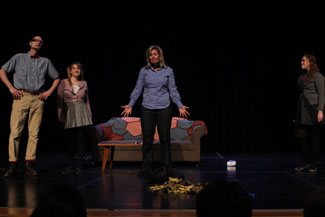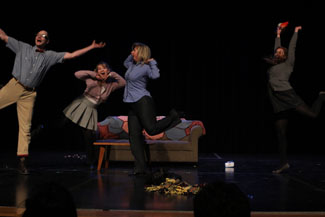 ---
Moving On
Written by: Toni "The Helicoper" Halleen and Mike "Skyscraper" Hentges
Directed by: Carolyn Levy "Me Alone"
Featuring: Eli "The Screamin' Eel" Coats, Kristin "The Conquerer" Foster, Anna "The Anaconda" Lakin and Batcha Mohammed Yabdri
---
Fourth Quarter Net
Written by: Eli "Death Merchant of Venice" Effinger-Weintraub and Heather "Ladyhands" Meyer
Directed by: "Mighty" Meg "The Wrath" Greivell
Featuring: Charla Marie "Chocolate Thunder" Bailey, Heather "H-Bomb" Burmeister, Catherine "I know 38 digits of pi" Hansen, Victoria "The Fondler" Pyan and "Mad Mack Mickaylee Shaughnessy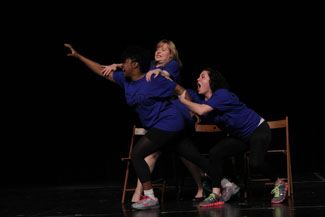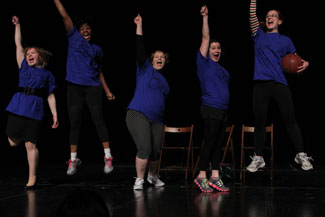 ---
457 Likes
Written by: Ahna "ner-cher-mama" Logan and Cynthia "The In-Cyn-erator" Uhrich
Directed by: Anya "The Scene Slicer" Kremenetsky
Featuring: Shanan "I sometimes have wine for dinner" Custer, Erin "Stop Me If You've Heard This One" Sheppard and Diana "Heck on Wheels" Wilde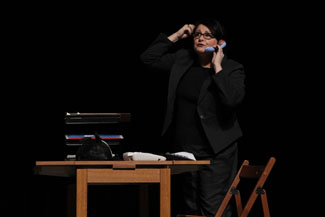 ---
Smackdown Staff:
Hamline House Manager: Karina "The Mighty Falcon" Hunt
Theatre Unbound House Manager: Ali "The Smasher" Gould
Box Office Manager: Anne "Vegetarian Vegetable" Bertram
Stage Manager: Sarah "Steak Knives" Salisbury
Backstage Crew: Brittany "The Whip" Eastburn, Briana "Brawlana" Libby, Sadie Ward
Light Board: Jake "The Grubworm" Pomeroy
Sound Board: Alexander "Prone to Random Fits of Rage" Gerchak
Playwright Wrangler: Matthew "Deus Ex Machina Blues" Everett
Actor/Director Wrangler: Delta "Ba-da-Boom" Giordano
Photography: Scott "Feisty Peach" Pakudaitis
Videography: SPNN
Preview Trailer: TMJ Productions
Graphic Design: "Pixel Man" Greg Vanselow
Press: