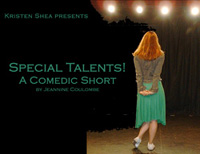 PAST PRODUCTIONS:
Special Talents! A Comedic Short
World Premiere! One Night Only!
Written by Jeannine Coulombe
Starring Kristen Shea
Featuring Lori Neal
Hosted by Theatre Unbound
Penelope is not your typical actor and this isn't a typical audition. At Penelope's 23rd audition this week, she may be forced to pull out a few special talents she didn't know she had.
Soon to play at the Royal Theatre in New York, Special Talents! is playing in Minneapolis for one night only!
Date: October 25, 2006
Time: 7:30 p.m.
Location: The Playwrights' Center
Reservations: 612-721-1186
Tickets: $10 (Bring your Shattered ticket stub to receive a $2 discount!)