UPCOMING PRODUCTION:
GIRL SHORTS 2014
Set B
K&M Productions presents:
Boobs
Created and performed by Kari Kelly and Molly Zupon
Triumphant, terrifying, touching (yes, we might touch ourselves) tales of boobs. Our boobs. Our big boobs. An abridged version of the 2009 MN Fringe Festival production including riffs, song fragments, and spoken-word segments celebrating ... and cursing the breasticular area.
"Light, funny girl talk, transparently half-baked for certain stretches, but also with a sense of long-needed unburdening regarding their sweater puppies. Hey, they said it." - City Pages
---
Theatre Unbound presents:
Lives of the Great Waitresses
Written by Nina Shengold
Directed by Emilia Allen
Featuring Sue Gerver, Kayla Hambek, Fawn Wilderson-Legros and Emily Wrolson
Four waitresses, each with her own brand of zen, share the secrets of being one of the greats. Heideman award finalist, Actors Theatre of Louisville.
"Honest, poignant and insightful ... Sweet and satisfying as pie a la mode with a cuppa joe." - PVancouver Courier
---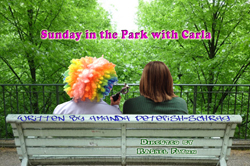 Freshwater Theater presents:
Sunday in the Park with Carla
Written by Amanda Petefish-Schrag
Directed by Rachel Flynn
Featuring Mame Pelletier and Anissa Siobhan Brazill
An eager therapist, a clown wig, a park bench, and some John Phillip Sousa marches. They may not be enough to heal a heavy heart, but they could at least lighten the load for a bit.
Founded by the husband and wife team of Ben Layne and Ruth Virkus, with the support and dedication of fantastic colleagues and friends, Freshwater Theatre Company has produced 13 shoes in our 3 years as a company. Our productions have been lauded by audiences and critics alike, and our production of Freshwater Theatre Goes Back to High School recently won an Ivey Award for playwriting. Our motto is simple: we love good stories, told simply and told well. We believe that theatre can be transformative, revelatory, and educational, but we love it best when it's a good time, too.